Home  >  Sell My Home  > Case Study : 5409 Azure Way
Selling Siesta Key
Sold in 16 Days - Backups - 98% of Asking
When it is time to interview an agent, your goal is not only to find out their results, you want to know what they are going to do to market your home.  John Woodward has taken the approach to help save you time and let you know about both BEFORE you interview.  
 Here is another recent example of results. Under contract in 16 days and sold for 98.6% of the asking price.
The average listing in Sarasota obtains 95-96% of the asking price.  In this example, the seller was able to net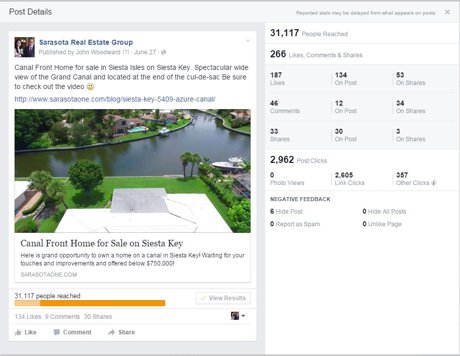 about 3% more than average. The average days on the market is 93 days which means the seller (in this case) received their money 77 days faster.  Have you ever heard of a real estate transaction falling apart?  John understands this as a reality of the real estate business.  So even with a contract in place, he was able to obtain two additional written back-ups just in case.  It never hurts to have a little insurance!
In the "what is John going to do to market your home" category.  John was able to get over 31,000 impressions through his Facebook chan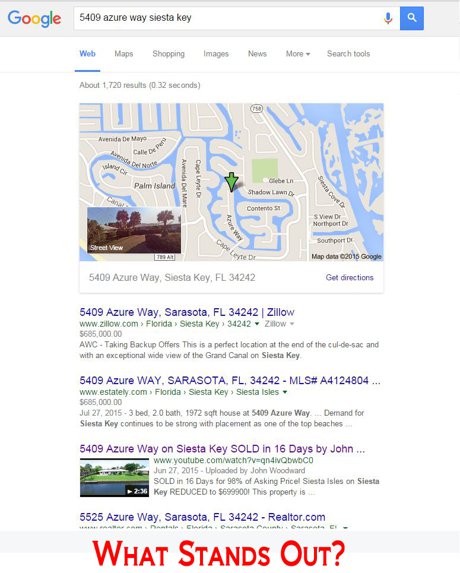 nel with almost 3,000 interactions.  That is nearly a 10% response rate.  Most advertisers are happy with just two or three percent response from just 3,000 impressions.   The results are through specific targeting that is unique for every home.   Almost 900 people watched the video in about a week. For all of this to work together, all of the pieces have to be top notch productions with an emphasis on quality and provide helpful information to potential purchasers.  Many agents claim they are "doing social media" or "video" but for it to work in accomplishing a sale, all of the pieces have to work together.  That is where many simply do not have the know-how and resources to execute what John has put together.
If you are unsure or don't believe that these sorts of results are possible, be sure to check out what people say about John Woodward.
If you are ready to sell with better than the average results, there really isn't a better way to get more buyers interested in your home. Call John Woodward and let's get started!

See the current numbers for yourself