Buying A Florida Home As-Is
Buying on the "As-Is" contract is a popular way many homes are sold as opposed to, for a lack of a better term, the standard contract. Both contracts, the Florida Association of Realtors makes available to its members.
Knowing some of the major differences between the two contracts can help guide you towards which contract serves you best for the situation. My concern has always been that the "as-is" contract is overused and doesn't always serve the buying public in a way they expect. There is a way to get the best of both contracts that may not be in the best interest of the brokers involved in the contract.
Agents Want You To Think "As-Is" Protects You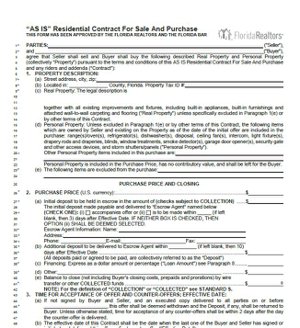 The reason I understand the "as-is" is viewed with so much favor is because it gives you, the buyer, an unconditional out for just about any reason during inspection period. This can be a good thing but remember, you are going to spend both time and money having an inspection and there are no requirements for the seller to fix anything.
In practice, the general approach is that once an inspection is done, then there is a second negotiation for repairs. Now, depending on how the as-is was presented to the seller during the negotiation, you may or may not be able to get repairs or concessions from the seller. If the seller refuses to negotiate the repair request, you are out the inspection fee as the seller is not obligated to do anything.
I think there is second reason why brokerages like as-is contracts that I'll circle back to in a bit. You might be surprised, their reason has nothing to do with protecting your interests!
The "Standard" Contract Has Advantages
The standard contract allows for a repair limit up front. Hopefully, you and your agent have gone through the home a couple of times before...
Be Sure to Check Out our "Buying As-Is" Episode
writing the offer and looked over the
View More