Market Slowing but Don't Expect a 2008-like Crash.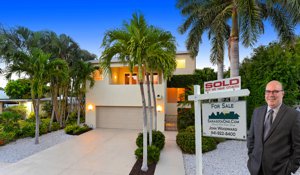 The market has officially shifted. The impact of the FED rate hikes has interest rates nearly doubling to just under 6% for a 30-year fixed mortgage. It may take months for equilibrium to come back into the market. For some homebuyers, the need to finance and compete with other cash offers has frustrated buyers. A 30% year-over-year increase in value is not sustainable.
Some buyers are waiting for the market to crash, much like it did in 2008. There are substantial differences between 2008 and now.
The last time the market was red hot was 2006-2007, and rates were 6%. Cash sales in 2006 were only 20%. The severity of the correction was compounded in 2008 further by owners that financed and could not support the investment without market appreciation. Remember those 'pick-a-pay' and reverse amortization loans? When the market stopped going up and began to drop a little, owners made a business decision to walk away, which only added to the problem.
Sarasota has operated with 50% cash sales for several years. Over the past couple of weeks, cash sales increased to about 60%. Cash sales only accounted for about 15% of all sales leading up to the crash of 2008. The market gains of the past several years are on a better footing than before. Recent sales with larger down payments or all cash have prepared today's homeowners better to weather any market slowdowns.

The recent rise in interest rates does impact the market, even considering a large number of cash sales. The cost of finance goes up, and the changing environment causes those with cash to spend to pause. Inventory, which historically ran in the 1,500 homes under normal conditions, has risen from about 250 homes at the start of the year to 550 homes. The median days to contract for the current pending listings remain eight days, showing that homes are still selling. The "months of supply" is up from one month to 1.2 months, which is still historically very low. The sense is that the craziness of multiple offers and bidding wars are few and far between.
The 2008 crash still affects today's market. Home building and land development rates dropped to almost nothing in 2008 and have never fully recovered. Layer today's supply chain issues, inflation, the effect of COVID and the workplace, and supply-side constraints will help hold prices up. More factors exist in today's market to prevent a market collapse than in 2008.

The market has shifted, there may be pricing corrections, the wild gains of the past few years are over, multiple offers will be rare, and there is little chance of seeing the mess of 2008 again.
If you have any real estate questions, please feel free to contact me.
John Woodward, GRI, CRS, CLHMS
Broker
Sarasota Real Estate Group
Links We Mentioned: