Home  >  Sell My Home  > Over 2,000 Views and a Contract in Less than a Week

Now let's go to a more recent property, 4709 East Trails.  Remember, Google likes quality and if someone was looking to find information about this home, we see in the results that, our blog post at the top and then, what stands out on the page is the photo from the video.
Note that these are NEW posts just 6 days old.  It's eye catching and draws attention to the video link.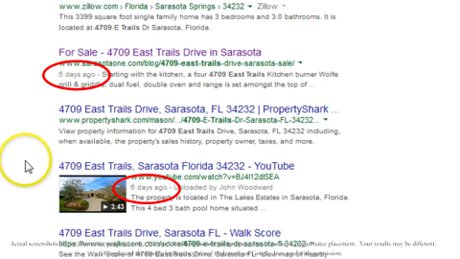 Google seems to like this and I love it for my sellers.
Going to our Facebook page we see that so far, we have reached over 35,000 targeted people.
Twenty-seven people have shared this post with their friends.   If we go over to the post we are promoting on SarasotaOne, we have almost 300people who 'liked' this.  You also see, full descriptions with photos and helpful places to go for additional information.
Over on YouTube, almost seventeen-hundred people have watched the video. All of this was accomplished in just 6 days.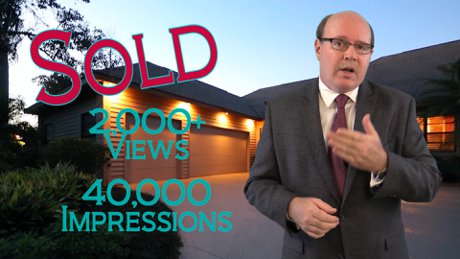 What do you think 40,000 impressions, almost 2,000 views of a nice video of YOUR home would do?  Well, this home went under contract the first week on the market.
Now, the dynamics involved in obtaining these results in the future can produce better or worse results at any given time.
But I see my job as keeping on top of marketing advantages in today's world as a high priority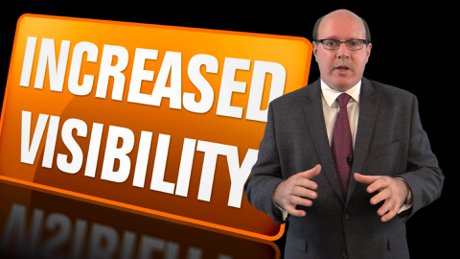 .  And like I said earlier, pricing and marketing work together.
You can also see other properties our SarasotaOne blog.  Feel free to check them out as well. Put those addresses into Google and see where we rank. You will find that all of the results are similar and YOUR home could be the next home right there.  This is an enormous edge for your home.