Home  >  Sell My Home  > Case Study : 3957 Easton Terrace, Sarasota
3957 Easton Terrace
This is a perfect example of how a more modest home benefits from a quality video being promoted properly.  This home had two offers before the seller came to terms with one in just 28 days.  It also sold for 98% of asking!
Part of the formula in taking a video is to always stress the good points of the home as well as providing a complete and accurate representation of the property.  This home had a few challenges in that it was tenant occupied and could have been a little more polished.  We worked with what we had and emphasized the cul-de-sac location, large back yard, and the quick proximity to Siesta Key.  It was also Christmas time and the lights we up in front which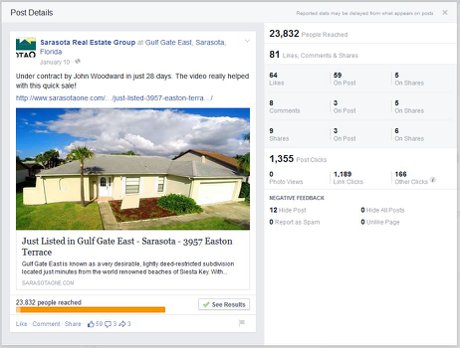 gave us the opportunity to show some of the positives the community offered.  With a contract in 28 days and multiple offers, it seems the approach worked.
We started the promotion on January 10, 2015.  At this time, we were still refining our targeted ad groups so while the numbers were respectable at this point, they certainly aren't where we are today.  219 on page likes and 1,600 watches of the video are nothing to be ashamed of either.
On the day of the shoot, we ran into a little rain which delay the exterior shots a bit.  The streets were a bit wet which didn't hurt but we had a little more shadow than we would have liked.  We're not looking for Hollywood quality.  We just want a great representation of the home for those out of town buyers that Sarasota seems to have a lot of :)
Related Links: