Siesta Sands Resort Condos for Sale
Siesta Key, FL
Tucked away just south of the Stickney Point Bridge off of Point of Rocks Road are the beachfront condos at Siesta Sands Resort in Siesta Key located at 1001 Point of Rocks Rd. Overlooking the pure white sands of Siesta Key at Crescent beach, sunsets are on tap every evening and no two are alike.
Located South Siesta Village, Siesta Sands is just 25 units constructed of solid concrete ranging from one-bedroom, one-bath residences of just over 500 sq.ft up to 1,370 sq.ft. with two-bedrooms and two-baths. Most units have been updated, are sold turn-key furnished and are kept occupied year round through the rental program. Condo fees include building insurance, exterior maintenance and basic cable.
In addition to this fabulous beachfront location, the property has two heated pool, Bar-b-que area, fitness, gates, elevator, and cable tv
Sorry, but pets are not allowed.
For the investor, the 3-night minimum rental keeps these units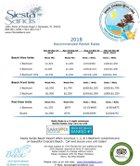 rented throughout the year. Check the most recent rental rates for 2018. The short minimum really helps to keep these units with great off-season occupancy as well.
Be sure to check out some of the other beachfront Siesta Key condos for sale as well.
If you decide that Siesta Sands might be the place, we have the pulse of the key covered to help you get the best deal. Both the Siesta Sands Sands Resort sold listings and market reports (to the right) are great ways to find out what units actually sell for along with helpful analysis.
Feel free to check back as we update all of our MLS listings several times an hour so you have to most current information. If you prefer, we can do your homework for you by sending these or any other market and property updated to you via email.
We know and love Siesta key and look forward to helping your aspirations a reality.
See you on Siesta!