SOLD on St. Armand's Circle
John Woodward Sells 338 S. Washington Drive in Sarasota, FL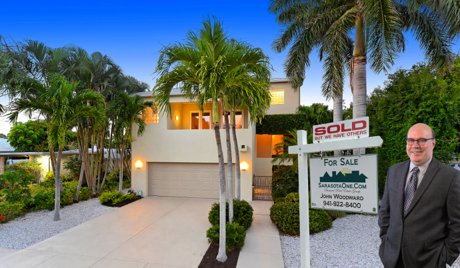 We all understand the challenges of a summer real estate market in Sarasota once all the snow bird head back north. Even still, superior marketing that includes high quality photos and video are the cornerstone of selling homes. Advertising placement that is seen by the right buyers and of the caliber that John Woodward produces, creates success in any market. After all, when was the last time you saw a post from a real estate agent about a property with over 200 likes and nearly 900 watches of the video (like this one)? Below is the content and complete post used during the marketing of this St. Armand's home. It is just what you would expect for John. Selling? Make John Woodward your first call at 941-922-8400. You will be glad you did.
St. Armand's Circle is a special tropical oasis located in Sarasota that few know about and fewer have the opportunity to visit. So when the opportunity to find unparalleled value when looking to call the special place home comes to the market, home shoppers take notice.
338 S. Washington Street has just been listed by John Woodward of Sarasota Real Estate Group. This modern contemporary designed home built in 2000 with 3,233 square feet prices out at $456/sq.ft. This is a price point where many 1950/1960 era homes are selling. Below $1.5 million for a newer, well maintained home with all the modern design considerations translates into a tremendous opportunity for a smart value purchase.
Be sure to take a look at the video for a complete and detailed tour of this home.
Being contemporary in design that flow seamlessly in all areas of the home are one of the key features. Large windows throughout the home bring brightness to the interior. High ceilings offer volume and spaciousness as well. Two fireplaces extend a warmth and coziness every home should have. The main level is focused on providing a casual experience whether home alone or entertaining a few friends before taking a two block walk to one of the many table
side restaurants on the circle. The kitchen is large combines with the gather room which overlooks the pool. It is easy to be impressed by this home without having to be pretentious. Formal affairs are easily accomplished with ample dining room space.
If part of the lifestyle is bringing guests over for extended stays, there is a second mid-level bedroom with its own full bath that is apart from the upper level and master bedrooms for unmatched privacy.
The 22x20 master suite is located atop the third floor and is bounded by lots of glass. Evenings spent sitting on the balcony overlooking the pool and tropical scenery is the perfect place to unwind. An enormous 14 x 10 closet is not only ample but the use of space through design of the closet area to make the most efficient use of the space. The master bath is more than ample with double sinks, a large sitting tub, and separate shower.
Smart design isn't just about how big a home is, it also requires smart use of the space. There is also a third bedroom with a walk-in closet and an en-suite bathroom. The laundry is also located at the other side of the third floor. After all, smart design is about efficient use of the owner's time too and who wants to move laundry up and down the steps.
Click on any image below for a larger view
| | | | |
| --- | --- | --- | --- |
| | | | |
| Privacy - Poolside! | Center Island Kitchen | Unmatched Scenery | Spacious |
Be sure to take note of our St. Armand's real estate market report which is updated several times an hour with the latest listings and sales. Compare this home to others of the area and it is easy to see the value this home represents in the market today.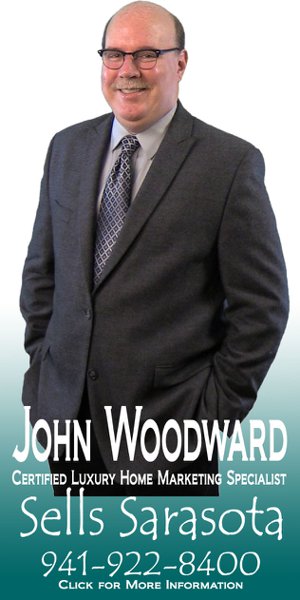 John Woodward sells Sarasota and his newest listing on St. Armand's is an opportunity the serious home buyer will see. Call him at 941-922-8400 and take a look. This is truly a home that won't disappoint.
First time offered at $1,475,000
Related Information
Join In the Discussion Here